Words by Séphora Talmud // Photos taken by Elodie Daguin.
Translated by Kasturi Pindar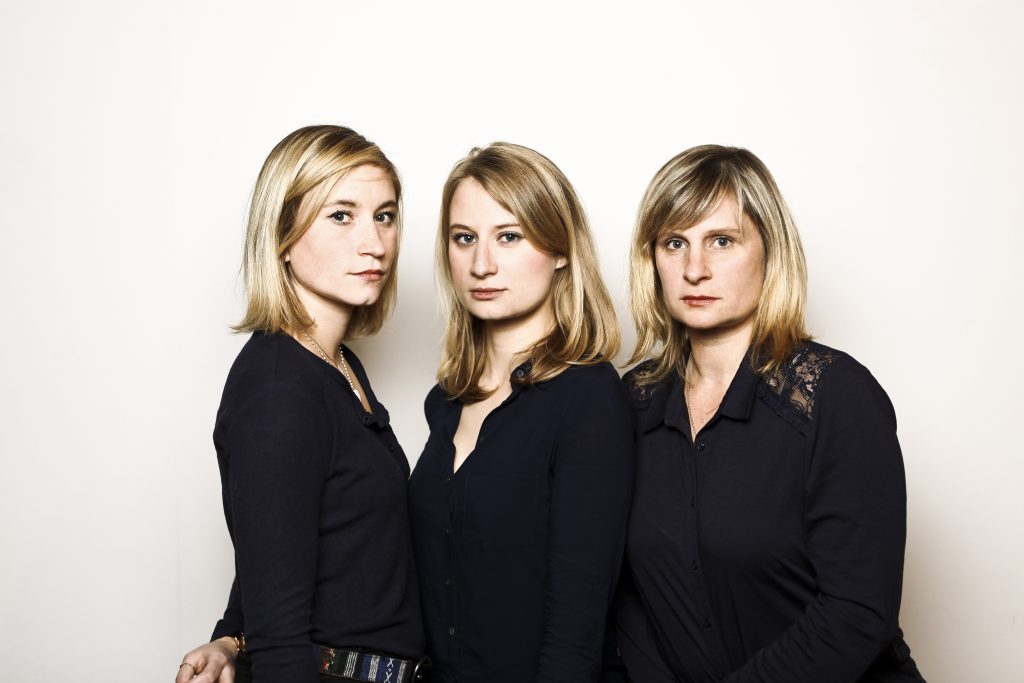 At the height of her career, theatre actress Juliette Galoisy prepares herself for an astonishing future.
Camille de La Poëze is also pursuing theatre and has hit the ground running.
Carolane Domart, a blogger who is less anonymous than she might seem, is taking the mysterious path of 'influence'.
These three lively women met during a unique improvisation show. They deserve a round of applause.
Your favourite colour
All three: Blue
A city where you'd like to live
Camille de La Poëze: Montreal
Carolane Domart: Montreal
Juliette Galoisy: Paris
What you look for most in a man/woman
Carolane Domart: Sense of humour/thoughtfulness
Camille de La Poëze: Sense of humour/self-deprecation
Juliette Galoisy: Tolerance/open-mindedness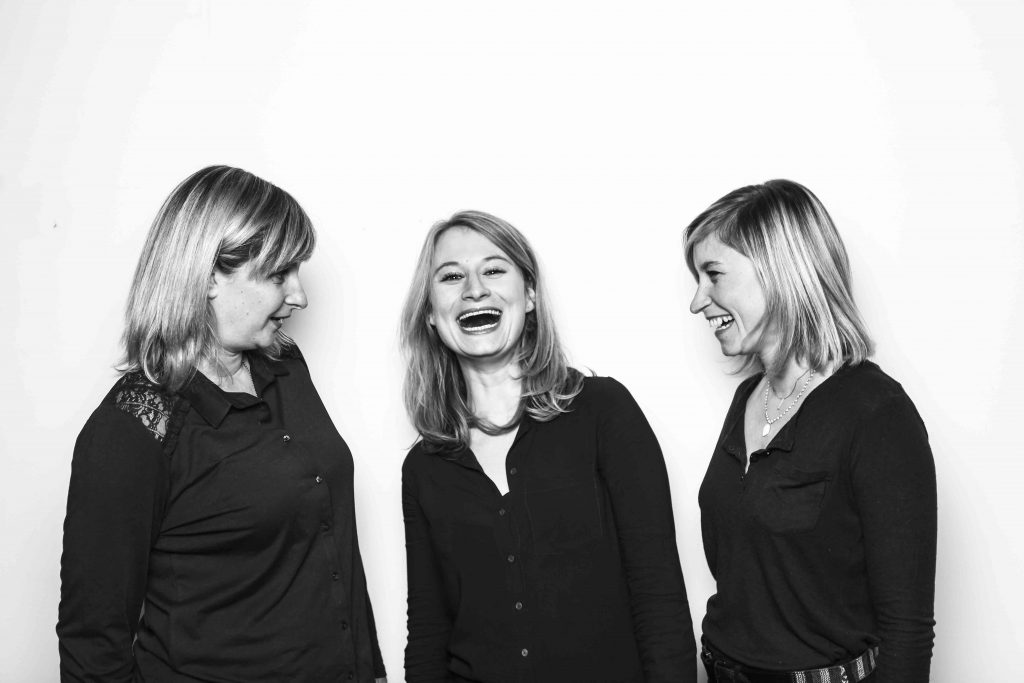 Juliette Galoisy: I'm so much older than you, I'm 45!
Carolane Domart: You can't tell at all!
Camille de La Poëze: Juliette, it was thanks to my friends who posted on my Facebook wall an ad you acted in that I "met" you. They thought it was me! From then on we called it "the dipstick advert".
Juliette Galoisy: Oh yeah? "Dipstick"! That's weird to say. That advert for second-hand cars was made by Eric Judor, an actor, comedian and director. The character I play is one of those people who knows their stuff about cars.
Camille de La Poëze: It's brilliant. It's cool to have funny adverts directed by comedians.
Juliette Galoisy: Yes, Gérard Jugnot and Alain Chabat made a lot of wacky adverts, but that was more than 20 years ago.
Caroline Domart: You two are living the dream! My mum pushed me to get into theatre, but I never had the opportunity.
Juliette Galoisy: You can take classes any time. You seem very relaxed, which is important. Camille, do you do radio? You know, I used a photo of you and I sent it to some of my friends and said "hey, I'm on the radio!" They congratulated me!
Camille de La Poëze: Wait, your friends thought it was you?
Juliette Galoisy: Yes!
Carolane Domart: That's crazy! We've come full circle!
Camille de La Poëze: Yes, I was a commentator in the show  "Ca va brader" on Radio VL, founded by Bastien Carpentier, a member of the Les Bradés theatre company. I really enjoyed it, I'd love to do it again. Juliette, have you been on the radio before?
Juliette Galoisy: I do radio ad voice overs for wholesale distribution with a specific humour, lets say. I'm very lucky, because it's a recurring gig.
Carolane Domart: What do you do to get your jobs?
Juliette Galoisy: Well you just have to sleep with people! More seriously, it often happens via meetings with people who work in advertising. At one point, my other actor friends used to do three per day, it was very well paid. Once, I was asked to fake surprise, an "oh!", and that was it, it was done. Since it's regulated, they aren't allowed to take someone from an agency, so they look for professional theatre actors instead. There are even girls who specialise in disclaimers…
Camille de La Poëze: "whilestockslastpleaseconsumeresponsibly"
Juliette Galoisy: It's the sound engineers who increase the tempo afterwards.
Carolane Domart: Oh! I actually thought they talked that fast.
Camille de La Poëze: And what else do you do?
Juliette Galoisy: I do staging for trios, and one-woman shows, but originally I was a café-theatre actress. I started working just after graduating from Périmony. I have two children who are 17 and 14 years old. Just after my pregnancies, I was in plays including 'J'aime beaucoup ce que vous faites' [I Really Like What You're Doing], which lasted 15 years. I acted in it for 3 years. I also acted in the children's musical comedy 'Scooby-Doo', where I played Vera. What I didn't realise was that when we performed at the Olympia, the 2000 seats were filled.
Carolane Domart: Well done!
Juliette Galoisy: Thank you! Unfortunately, I've been at a standstill for two years. It happened suddenly, though I have a good network in the theatre. So, I'm living THE problem of the actress, which is to struggle to be appealing. At the moment I'm working on a one man show, with full scenery rather than a sketch type thing. It's a play with only one character. Someone wrote it for me and I got into it.
Camille de La Poëze: You say that you're not appealing, but someone still wrote for you!
Juliette Galoisy: That's not wrong. But anyway, I've had this career for over 20 years without ever doing a one man show.
Carolane Domart: That must be incredible pressure. Will it be out in 2018?
Juliette Galoisy: Yes, I play a world history coach. It scares me, because I won't have anyone to share the tour with, apart from Gerard, the stage manager. Only Florence Foresti has 15 people around her. I hate loneliness, eating up my cold roast pork and sleeping in my shabby room… But it's one of those things you have to do when you're a theatre actor.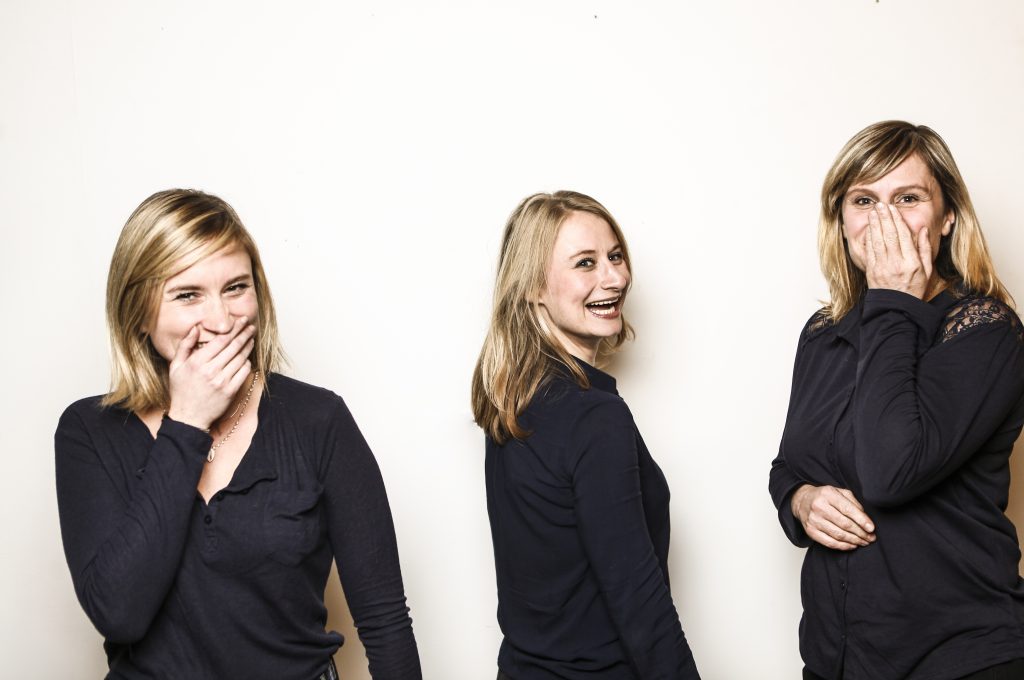 Juliette Galoisy: When I wanted to leave cafe-theatre, I was turned down by a guy from a subsidised theatre, whose work I loved, but who was very condescending. I told myself I would never do workshops with assholes again. Right after that, I had the chance to participate in one with a guy who was a bit bonkers, and it was great. You quickly realise how much of a gulf there is if you come from café-theatre; you can't get into the subsidised theatre networks. It's frustrating, in France everything is compartmentalised.
Camille de La Poëze: Me too, I'm starting to write my one-woman show. It's a stand-up and a bit more American. In it, I talk about my life, my experiences and topics in society that speak to me.  I can't wait for it to be ready. My dream would be to go and act in Canada!
Carolane Domart: We'll be your first fans!
Camille de La Poëze: I'd like to perform it before I turn 30. That means 2018 will be intense. But it's exciting to be launching!
Juliette Galoisy: Wow! That's great! I'm also taking it as a challenge.
Camille de La Poëze: A big challenge, yes. It might sound ridiculous, but my biggest fear is to have a blank while alone on stage, without a safety net.
Juliette Galoisy: There's also your relationship with the audience. Once you've memorised the text, it's fine. With experience, you know that the more nervous you get, the more you panic, and the less you can remember your lines again.
Juliette Galoisy: Carolane, you're a school teacher, then?
Carolane Domart: I worked at the high school in Saint-Quentin, in Aisne. An isolated place. I got a good mark in my masters in teaching, without passing the competitive exam. Since there's a lack of teachers, and to give you an idea of how bad the problems are for education in France, I did my job interview at the same time as a guy who had just come out of law school, and he got the job! I had a CE1 class [7 to 8 years old] of 20 students. It went really well. One child didn't know how to read, it was OK, especially in that type of neighbourhood. I loved teaching, and since I was more and more present on Instagram and in the blogosphere, I told myself I already had a foot in the door with teaching, and in the meantime I could allow myself to go along with the pleasures of the internet.
Juliette Galoisy: So, you've got a blog?
Carolane Domart: Yes, I have a new type of job which didn't exist before: I'm an 'influencer'. Last year, I joined two friends on the blog Pas de salade entre nous [No Salad Between Us], that they launched three years ago. For the moment, I am trying to live off my influence on my Instagram account. I majored in literature at high school, but it's not my thing at all. At the start, I was regularly on my phone, I created my own community; it didn't happen just like that.
Juliette Galoisy: Oh yes, you worked.
Carolane Domart: I spent way too much time on Instagram! After a while, I had to separate my personal life from my life on Instagram. It sells a dream, but there are people who are in too deep and suffer from it. I was on it all the time, I was addicted… Now, when I go out with my friends, I'm the only one without my smartphone at the table. You have to respect the people you're with.
Juliette Galoisy: I don't follow you on Instagram… What are the 72 600 "flowers"?
Carolane Domart: That's so cute, "flowers"! The "followers" are the people who are subscribed to your account. It's important to be in contact with the people who follow you, to make yourself accessible. With Pas de salade entre nous, we organise drinks with our followers every month. For example, we're inviting girls who follow us to the Lido for our Christmas do.
Camille de La Poëze: Oh but are you on Instagram, Juliette?
Juliette Galoisy: I remind you that I'm 45 years old. But yes, my username is @juliettegaloisy. My children show me, but I'm really careful, I ask them questions about what's going on on their accounts, etc. On my account, I post things from work, nothing personal. So, do you manage to live off it? Do you use your Instagram account like an advertising platform to get paid? Who pays you?
Carolane Domart: In fact, it's product placement. Since January 2017, I've lived off sponsored posts, where I go try out hotels, for example. It's often agencies that pay me. I've just come back from Seyne-sur-Mer, where an American agency invited me to stay one night at a hotel. I was paid to take around 20 photos and write an article in English. I was the Online Community Manager with my friend Léa from the blog Pas de Salade Entre Nous, for Maison Montfort, foie gras, duck, etc. We managed their social networks and wrote lifestyle articles, recipes and videos for the website for the end-of-year holidays.
Juliette Galoisy: Blimey, that's amazing! I'm very impressed; you created a business by yourself, that's super!
Camille de Le Poëze: Your job sounds easier than ours.
Juliette Galoisy: Not sure. How do you keep advertisers interested?
Carolane Domart: For the moment, I'm accepting projects as I want, I'm lucky. And my community changes with me. With Léa, from the blog Pas de Salade entre nous, we've known each other for 3 years and we're good friends, even though we're going to sign a contract together. We met via social media. You can be pleasantly surprised by people when you meet them in real life, because Instagram photos don't necessarily reflect their personality.
Camille de La Poëze: Do you have any advice for me to build my Instagram community?
Carolane Domart: Show your boobs!
Camille de La Poëze: Oh really? I've already done more than that but it didn't do anything!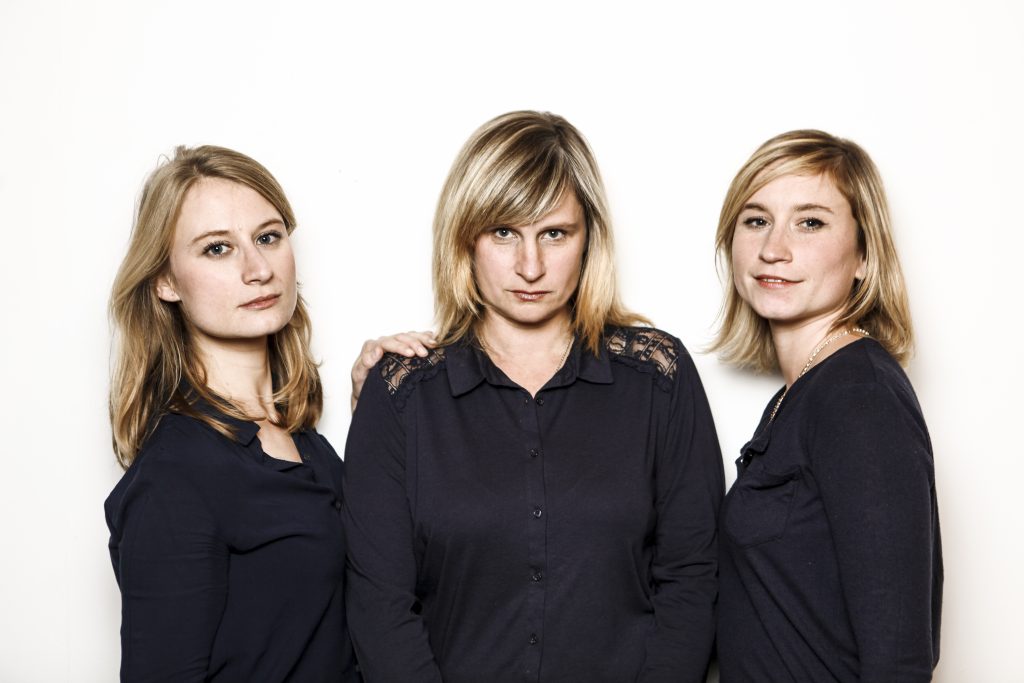 Camille de La Poëze, Juliette Galoisy and Carolane Domart
Carolane Domart: Haha! Go on Camille, it's your turn to introduce yourself!
Camille de La Poëze: I was born in Nantes. When I started business school after my baccalaureat, I got into amateur theatre. I quickly wanted to go into theatre full-time, but my parents didn't want me to make this my profession. After having completed a two-year masters, I immediately moved on to Cours Florent. Next, I did workshops and took classes in another theatre school to improve my acting further.
Juliette Galoisy: Check you out! I've only got the baccalaureat. What kind of workshops did you do?
Camille de La Poëze: Jack Waltzer from Actor Studio, and I also took six months of classes at the Atelier de Théâtre Béatrice Brout, which comes closer to the American method of acting. I acted in the improvisation show, TIME, for almost two years, in Paris and Avignon. Those are very good memories. Now, I give improv classes in my old theatre school, I really enjoy it! One of my main projects today is my collective La Douche, founded with two friends who are authors and actors: Sophie Imbeaux and Aude Gignac. It was friendship at first sight. La Douche happened naturally, from our desire to work together. Now, we're produced by Golden Moustache, thanks to whom we're going to perform at the Olympia on January 14th, it's still not sunk in! On the side, we're continuing to make politically engaged short films, while always keeping the funny, absurd aspect of them. That's La Douche's identity and we want to cultivate it. Ideally, we'd be produced for everything we do. The next step after the web will be television, then cinema.
Juliette Galoisy: That makes me think of the Terroristes du Quotidien [Daily Terrorists]. They're good, the hidden cameras. I use them in Cam Clash. It makes people hate you so much!
Camille de La Poëze: Yes, it's a good exercise. It reminds me of this episode where a guy refuses to be served by a woman in a hardware store. For two years I've been "immersed" in these social questions. With the company, Les Bradés, we're performing a show in the form of forum theatre in high schools, for girl/boy equality. I've also made a short film on the theme of woman-to-woman sexism in the in the legal profession. Naturally, I wanted to deal with more engaged topics.
Juliette Galoisy: That's great!
Camille de La Poëzie: What's important to us is to ask the audience questions without being moralistic. We consider ourselves feminists, and it's not a rude word. For example, we released a short film "je suis un cadeau commun" ["I am a Joint Gift"], for the Nikon Film Festival, about the pressure that women can feel as they approach 30 years old when they haven't yet had children. We also did a short film last July: "Le bout de graal" [Piece of the Holy Grail], a pun on bout de gras [chew the fat] and Monty Python's Sacré Graal! [Monty Python and the Holy Grail], about our inability to be satisfied with our bodies.
Juliette Galoisy: You should listen to the 1971 show with Jacques Chancel who interviews the actress Delphine Seyrig. She talks about feminism and is forced to put him in his place (around the 17th minute). She embodies femininity and brushes him off with such class. It's incredible that in 2017 we're still here. We're tarnished with a kind of mistrust and labeled hysterical as soon as we say the word feminist.
Camille de Le Poëze: We're also portrayed as Femen, violent, emasculating women. But to be feminist is to want equality, without wanting to overthrow men. Having the same rights and opportunities in life is very positive. With La Douche, we want to spotlight different subjects in society that affect us. There's a lot of material, and it's all very current.
Carolane Domart: Oh! That's interesting!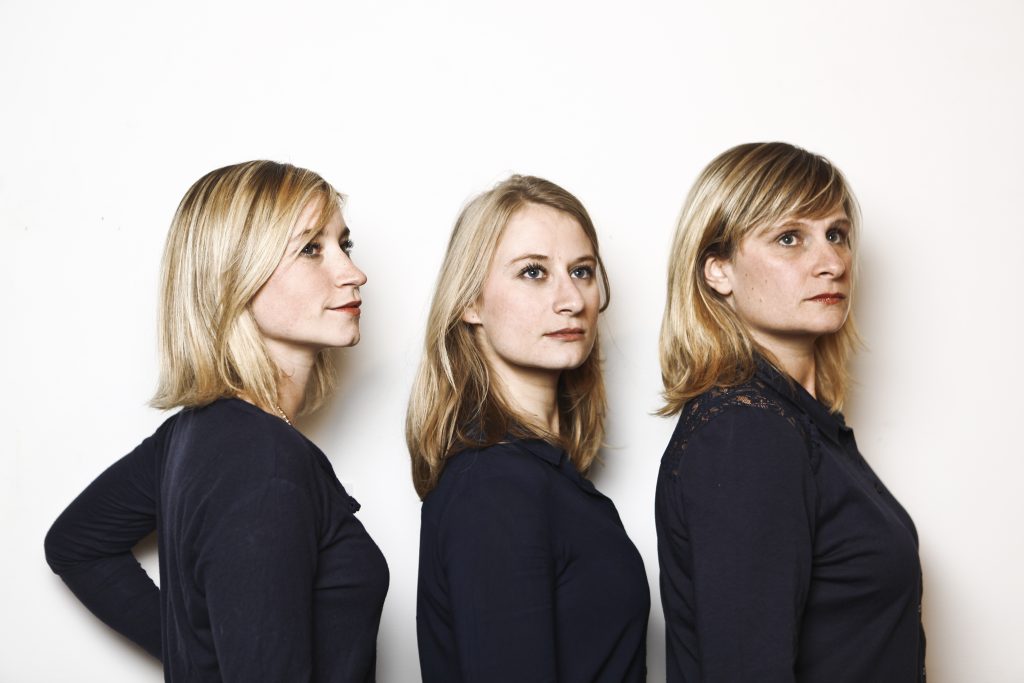 Juliette Galoisy: And then, the Harvey Weinstein type guys who piss women around, there's so many of them. To be completely honest with you, at 19 years old (young actress, very cute, I really wanted it), I went to an audition between midday and two, the offices were empty, I thought to myself "hang on, that's weird". The director of casting humiliated me by ordering me to open my mouth, as if it was normal, even though it wasn't in the script. So, I felt like a fool, I opened my mouth and he stuck his tongue down my throat. I went to see my teacher, Monsieur Périmony, who led an inquiry and found out that the guy was known for being a real pervert… My teacher told us to be careful of propositions like "come round mine this weekend to rehearse your lines". You had to go to neutral, public places,  even then, in 1994. I felt so stupid because of my naivety.
Camille de La Poëze: Horrible!
Juliette Galoisy: Maybe there are fewer asses today, because guys are too scared at the moment, but it happens all the time! Actresses who persevere… do you realise? From one month to another, you're asking yourself if you're going to earn enough. Eventually you learn to live with this anxiety and to manage it, but it's very difficult.
Carolane Domart: I'd have to be really hurt to make my audience feel bad. At least, if you have to make people laugh, you have to feel good yourself, right?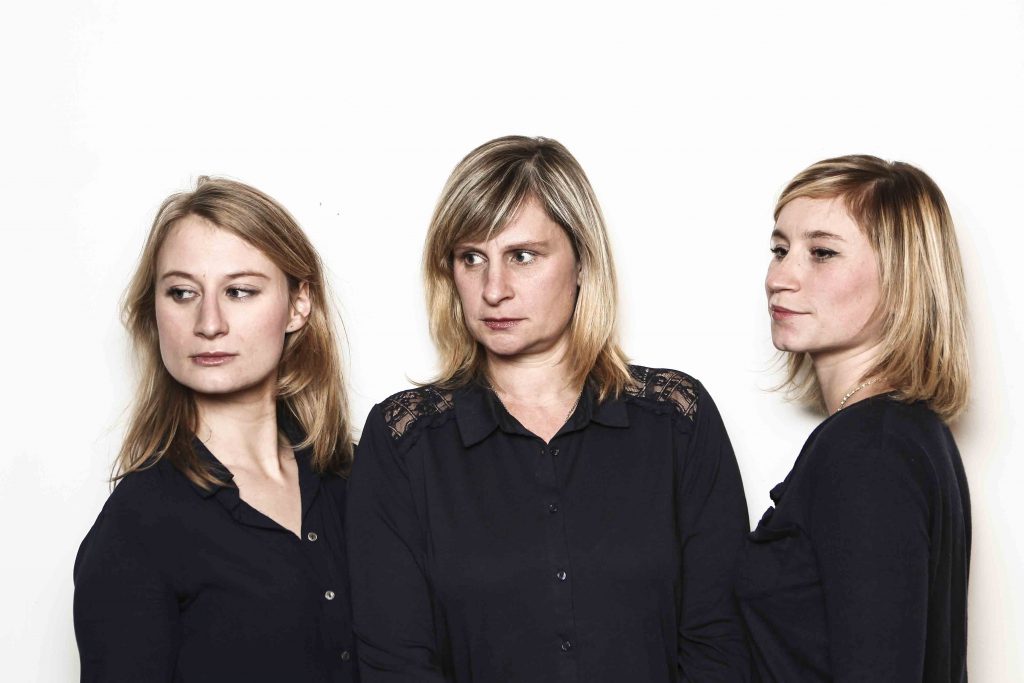 Juliette Galoisy: You can pick up techniques, find feelings deep down in yourself, and you don't have to have lost your parents to cry out all the tears in your body. You know, people who make others laugh also have problems. It's shit!
Camille de La Poëze: To make people laugh, for example, you can use the internal distress of a tragic character. Someone who has OCD, for example, that's terrible, but depending on the context, it can become something very funny. Sad clowns, people who are a bit pathetic like Jacques Villeret have made an impact. Negative feelings and the failures of others often make people laugh.
Juliette Galoisy: It's obvious, sadness makes people laugh! I've never made people laugh as much as I do with my sad stories.
Camille de La Poëze: It's never free to make people laugh. There's something more internal. For a lot of comedians, it's really therapeutic: "make other people feel good to heal yourself".
Juliette Galoisy: Peter Brooke produced a play from a book called "The Man Who Mistook His Wife for a Hat", which deals with all sorts of psychiatric illness. He showcased this distress and it was funny. The audience was very moved, but laughed a lot. Le sketch de la solitude [The Loneliness Sketch] in the first Muriel Robin show also uses bittersweet comedy.
Camille de La Poëze: There isn't just one form of humour for every scenario.
Carolane Domart: That's true.
Juliette Galoisy: You know what? I find that all three of us really have similarities; we're all living life to the fullest.
++Follow Carolane Damart aka Carolananas on Instagram, Facebook and her blog.
++ Follow Camille de La Poëze on Instagram, Facebook and IMDb. She will be performing at the Olympia with La Douche on January 14th 2018 in a Golden Moustache special event. Also with Les Bradés in the play "Eugène et Joséphine", written by Kevin Bagot on 5th and 6th April at the Point du Jour, in Boulogne.
++ Follow Juliette Galoisy on Instagram and look at her artist's page.
Words by Séphora Talmud //Photos taken by Elodie Daguin.
Translated by Kasturi Pindar