Interview by Séphora Talmud // Photos: Élodie Daguin.
Translated by Christabel Chubb.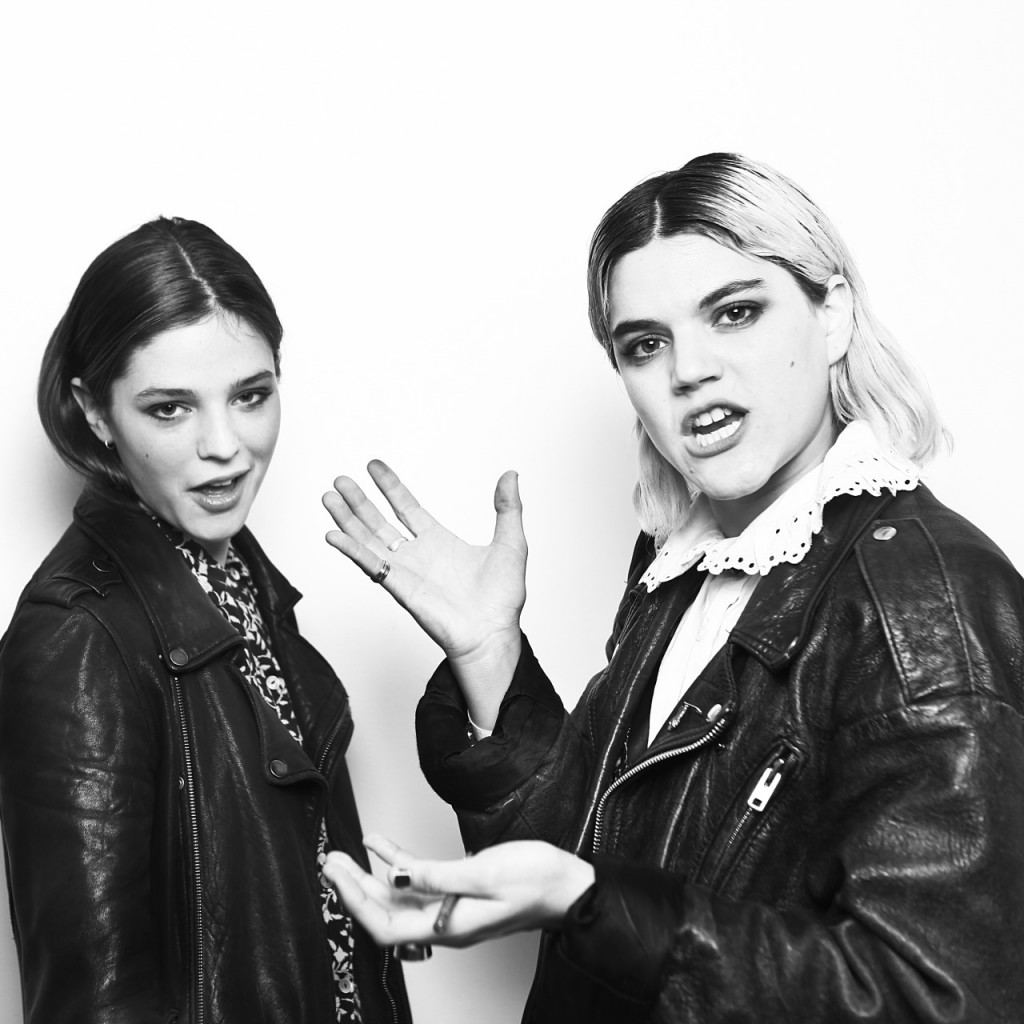 To my right, Soko; a comedian and musician. To my left, Juliette Lamet, a comedian and model. One has hair which is a mix of bleach blonde and brown, she's pretty and wearing a leather jacket. The other is pretty with light brown hair, also wearing a black leather jacket. The two spookily similar young women could play each other in a film. This is the first meeting between the two soul sisters, just as Soko's new album is coming out.
Juliette Lamet: It seems that we resemble each other physically, but that is not the only thing we have in common.
Stéphanie Sokolinski (Soko): It's unsurprising as we both have cat-like faces. What do you do?
Juliette Lamet: I'm a comedian. I know that you are as well. You've been in a few films, but you don't just do that- you're also a singer. Tell me how you got into cinema, music and fashion.
Soko: I lost my father when I was 5. After that, my mother signed me up for a tonne of activities to try and get me out of the house: judo, swimming, dancing, piano, horse riding, theatre. I knew at a very young age that I wanted to be an actress. The idea of telling stories fascinated me! I was a good student, but never at ease with the element of competition that there was at school. I arrived in Paris when I was 16 and I quickly started working as an extra. At the time, I wanted to be on set and learn about the job. I started going to stage classes, but I found myself once again surrounded by competition. It's the opposite to the way I work; I think that everyone has their part to play and that we can all succeed without having to tread on each others toes.
Juliette Lamet: It's an unavoidable part of the industry.
Soko: Yeah. Actually, I'm not very academic.
Juliette Lamet: Does that worry you?
Soko: It terrifies me. I've always been a total music nerd, I used to go to concerts all the time. I split my time between babysitting, being an extra, theatre classes and castings…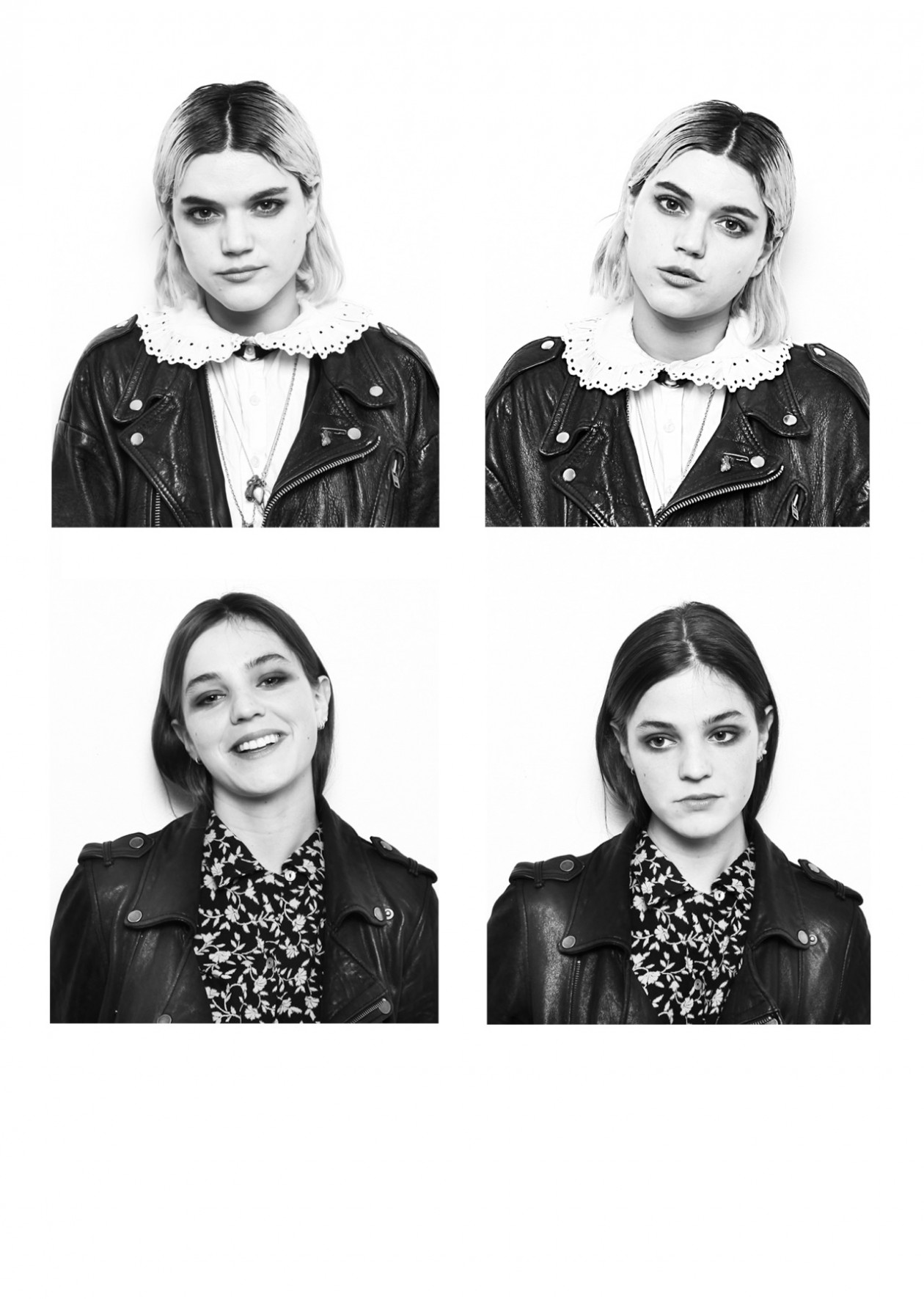 Juliette Lamet: It's exactly that, the life of an emerging comedian.
Soko: And you, how did you start?
Juliette Lamet: I did 10 years of classical dance. I grew up in an artistic environment and I took classes at design school. When I left, I was the was featured in a campaign for Cacharel perfumes.
Soko: That's really cool. Is it what you want to do?
Juliette Lamet: Originally, I never thought about it. But given that I was always on set through dance, it came naturally to me. I really liked that. You haven't finished telling me your story. Do you write your songs while you're doing castings?
Soko: Yes, I wrote a lot. It was the only way to get through mental blocks. It let me transform something sombre into something more artistic and light. I travelled a lot with my musician friends. I often stayed at theirs staring at their instruments and always wanting to touch them. I gradually taught myself how to play the guitar, the bass guitar, the drums. It is up to me to have the rigor to create things every day to fuel my passion and my creative energy. Around the age of 20, I still hadn't managed to create anything in Paris, so I moved to London, then New York, and then to Seattle. I've been living in Los Angeles for 7 years now. I feel like I have really established myself as a musician, partially thanks to the very accessible production networks in place there. People have so much energy, and they always want to get involved. It's very rare. It gives me an incredible amount of energy.
Juliette Lamet: In Paris, it's a lot more overwhelming.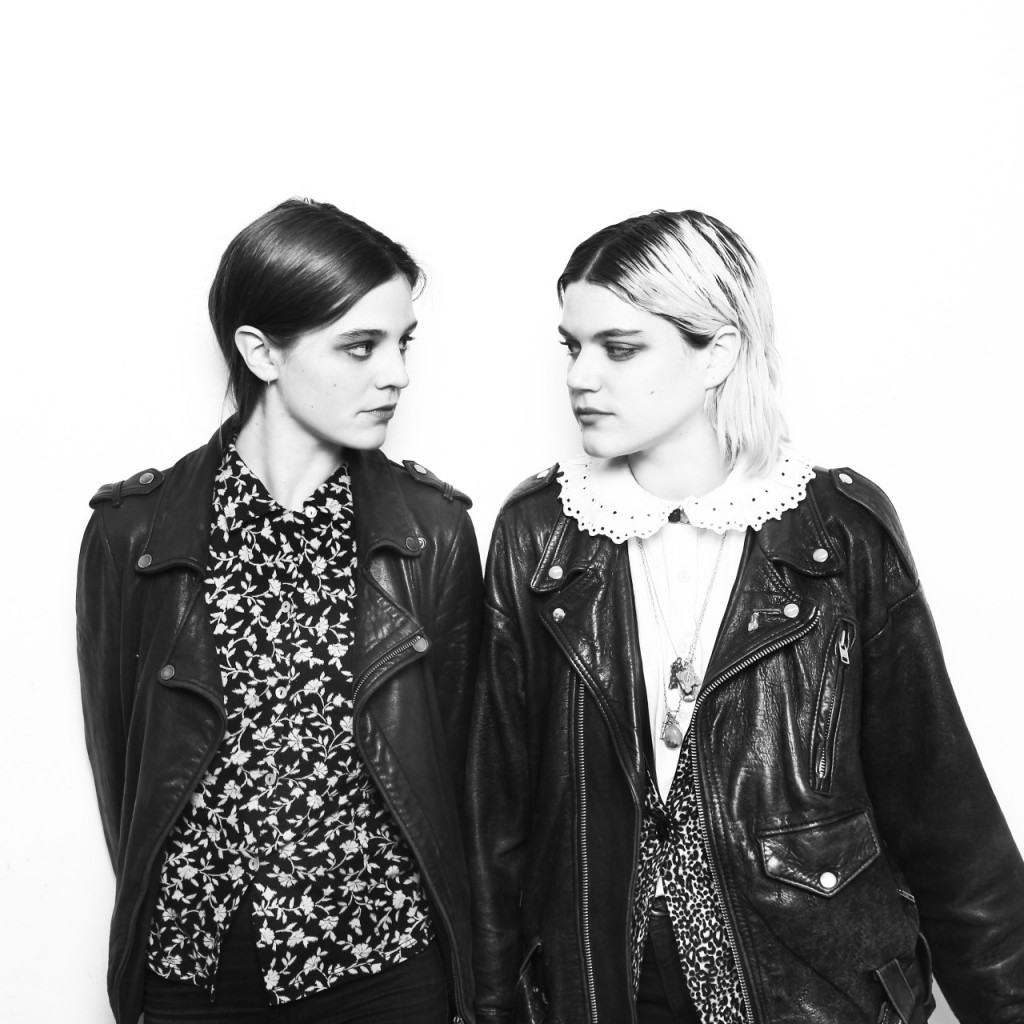 Soko: Yes. LA is so inspiring: as soon as I have an idea, I can materialise it in one day. I directed my penultimate music video in a seventies car-wash on Santa Monica Blvd, with worn-out colours and decaying neons. I went to a party with my best friend Nina Ljeti, who is a director and only 23 years old- she gave me a part in her second feature film; Things You Missed While We Were Gone, which is coming out this year. So, at the car wash, we managed to film the whole thing within 2 hours, with all my friends. My two cameras didn't have any battery, so I had to charge them from my car battery. Everything was very haphazard. It was in an area full of junkies and crackheads who asked if it was an artistic performance.
Juliette Lamet: Do you have green card?
Soko: Yes, I've had it for 3 weeks. I am very happy, I really fought to get it. Over three years, I paid between 5000 and 10000 euros to get a 3 year visa.
Juliette Lamet: In terms of fashion, you posed for Surface To Air, CK One, Just Cavalli, you're friends with WREN (the famous First Kiss), AMI…
Soko: In fact, doing music independently costs a lot of money, and at one point I was self-sabotaging and holding myself back from certain exposure and interesting collaborations by refusing to do fashion appearances. What's more, I've always adored clothes. My entire wardrobe in LA is full. My friends want to come round just to nick things. It's weird that it was only a year ago that I had an epiphany and decided to say yes to everything, in the spirit of YOLO.
Juliette Lamet: If you could be anywhere right now, where would you be?
Soko: I've stopped thinking that the grass is always greener on the other side of the fence. In order to stop being depressed, I realized that I had to be happier here or wherever I may be, all the time. Always living in the moment. That way, I never think about missing someone or about whether I'd rather be elsewhere. I try to make the most of every moment. It's down to me to make a moment fun, or to not get bored, or to get to know people through having a good time with them. How old are you?
Juliette Lamet: 23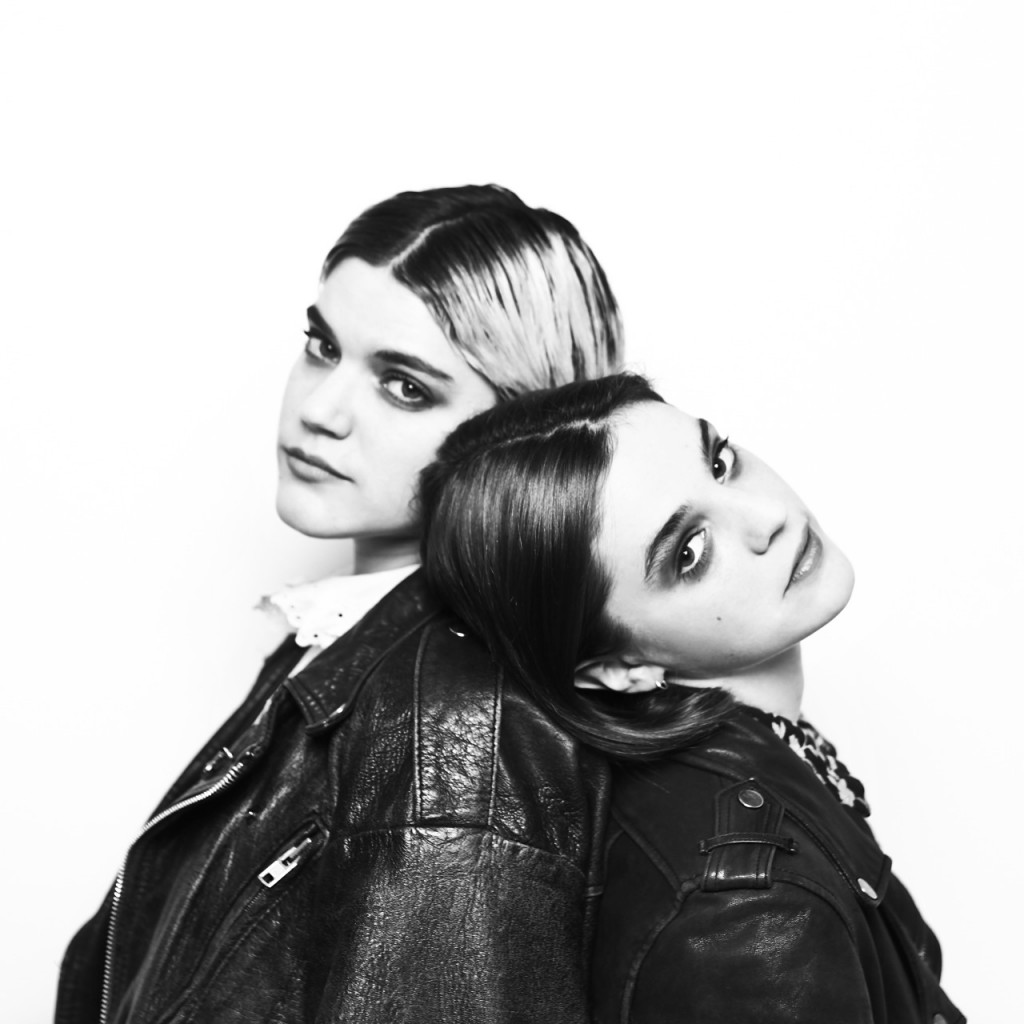 Soko: Ok, you still have some time. in astrology, there is a thing called the "Saturn Return", which happens every 28 years. It's a period where you ask yourself thousands of existential questions. Though I never talk about it, I lost my father too early, and now I'm scared of being abandoned, rejected, of losing everything that I have, or getting into relationships incase they go wrong; I am completely « undatable », terrified by love. I am still crying over the person I was with 3 years ago.
Juliette Lamet: Yeah, and somethings happened between you and Ariel Pink right? How would you define your relationship?
Soko: Very conflicted. He's my ex. When he did a concert in Paris recently, I did his make up and I sung a bit with him, but it's very complicated, he told me off because he thinks I never thanked him enough for bringing me onto the scene with him. He shouted: "I'm a fucking star, ok?". 10 minutes later, he said to me: "you know, we can seep together whenever you want. You only have to ask and I'll do it". I said: "No thanks, I'm good, I don't want to get herpes". I had quite a healthy relationship with him, but on his part, it was a rollercoaster. He always felt in competition with me.
Juliette Lamet: It must make it so difficult if he is jealous about your job…
Soko: I put up with his mood swings because when you make music together, it's a crazy thing. He became my album mixer. I waited three months for that. And the guy had me waiting around for 2 weeks before giving me back my album and telling me that I was putting too much pressure on him. In the end, Kenny Gilmore, a colleague of Ariel's, mixed my album.
Juliette Lamet: Do you consider music a form of therapy?
Soko: Yes, it's as natural as eating, drinking and breathing. You must have felt the same about dance as well: being on set is really the only moment where you can't think about anything else. Only the moment you're in is important.
Juliette Lamet: Completely. All of life's problems disappear.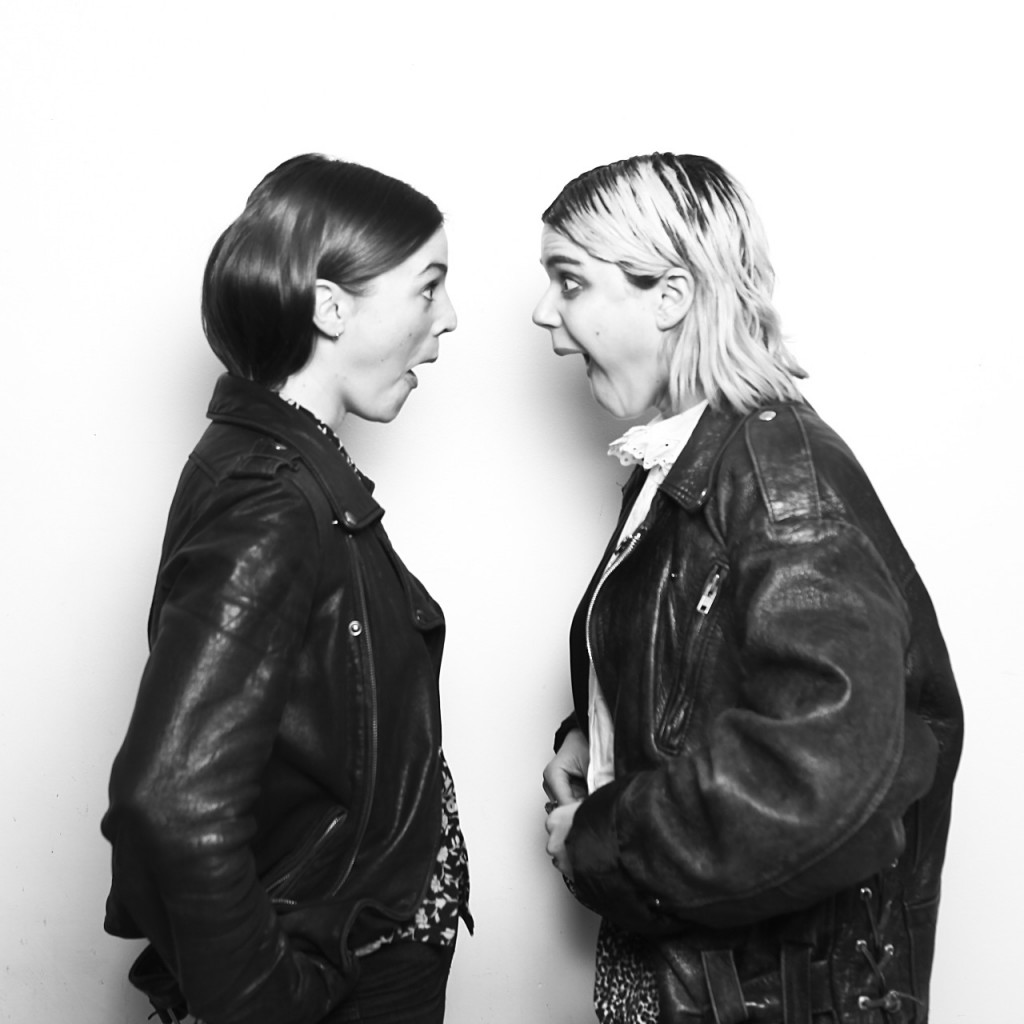 Soko: You can only feel good. I give everything to a scene, and afterwards I'm empty. Every night after a concert, I sell my merchandise. I stay one hour to chat to people, who are sometimes really fragile, sometimes that have made suicide attempts, and confessed that my music has helped them, they show me their scars… it is pretty deep. I open up to people and give them a hug. I can only give, give, give. After, I have nothing. Have you already had post-tour depression?
Juliette Lamet: Yes, when you get back from a tour, having spent time in a cocoon with all the same people, it's hard when you then find yourself left in the city, in your apartment, wait for the next casting or role.
Soko: I'd never wait for those things.
Juliette Lamet: Where does your drive come from?
Soko: This year, I've had to face my biggest fears, and I became really depressed. Weirdly, this album, which is happier than the ones before it, has made me bury my old demons, pay hommage to the past and accept it. Given that my father died in his sleep; every night I sleep thinking that I am not going to wake up in the morning. When I realize I'm still alive, the dag starts to get better. Every day has to be the best day of my life.
Juliette Lamet: I'm hanging on your every word. There are so many points during your career as a comedian where you doubt, you question everything, I wonder why I'm always questioning things.
Soko: Move to Los Angeles. The quality of life there is incredible: the sky is always blue and you're surrounded by palm trees. You are more independent, you get in the car drive to places they you'd never have imagined. It's more stimulating and spontaneous than Paris. I'm going to live my life in LA, I'm so happy there. My friends are so inspiring and the music scene is great: Warpaint, Ariel Pink, Deap Vally… It's easy to collaborate with people, everybody is so open. Sorry, now I'm selling you a dream.

Juliette Lamet:
Actually, speaking of dreams, I never remember mine, unless I wake up in the middle of them. Given that «your dreams dictate your reality», what's the last dream that you had.
Soko: It was so weird. I was at a party with Kristen Stewart. She took me into a bedroom and shouted «fuck my ass!». I was a bit startled. Suddenly, an old person arrived and treated me like a slut, even tho he was in the middle of raping Kristen. I escaped, and found myself totally naked in LA, and I was looking for my clothes. I asked people to google the closest Wal-Mart. Then, I got to a chic casino, even tho the CIA was looking for me because I left Kristen Stewart while she was being raped. There, I caught sight of my bass player, who's extra tall. We are always joking around because I can put my head between her boobs and shout «motorboat!». She owns my ass and I own her boobs. We have friendly arrangements about what we each own. In the dream, she offered to hide me in her airbags, and the CIA wouldn't see me. At the end, I kill all the CIA agents. That's where my heads at at the moment.
++ Juliette Lamet's instagram and her VMA profile
++ Soko's  album from Because Music, My Dreams Dictate My Reality, and listen to her full discography on Deezer. Follow her on Facebook, Twitter and Instagram!
Interview by Séphora Talmud // Photos: Élodie Daguin.
Translated by Christabel Chubb.