Interview by Séphora Talmud // Photos: Élodie Daguin.
Translated by Christabel Chubb.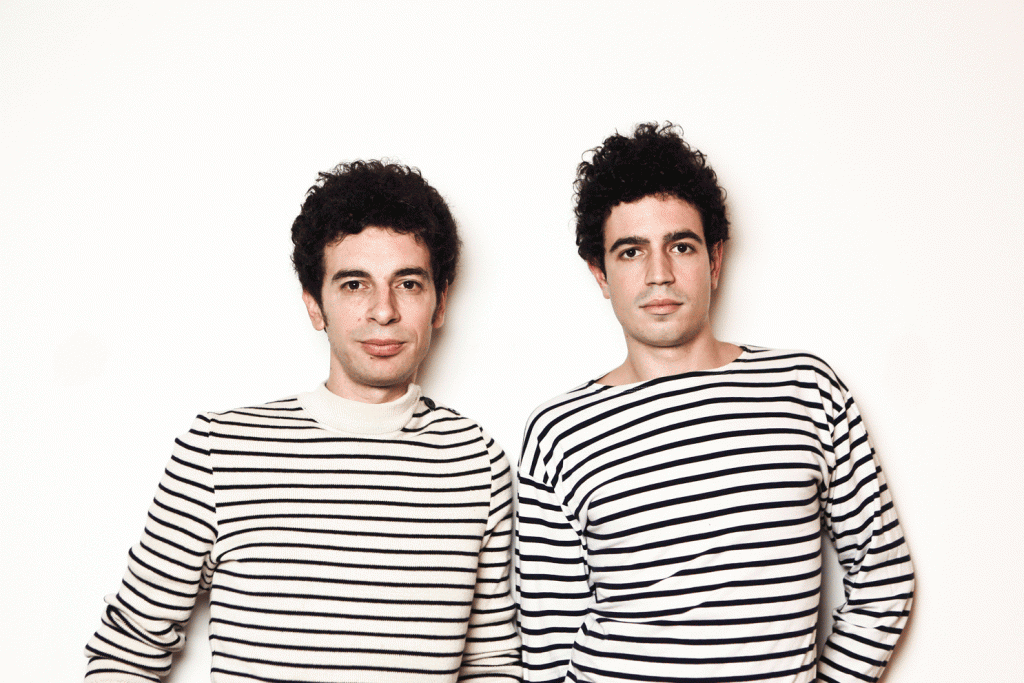 They have the same curly hair, same candid look, same fitted striped sweater. They aren't brothers by blood, however they have both had music running through their veins since they were born. These two actors-composers-performers have 10 years between them. Who would have believed it? Out of the spotlight and alcohol fumes, Raphaël Léger and Victor T. are meeting face to face for an informal chat.
What qualities do you look for in a man/woman?
Raphaël Léger: Humanity/adaptability, openness of spirit, a relationship devoid of the man/woman divide
Victor T.: Kindness and the ability to laugh at yourself
A country where you'd like to live?
Raphaël Léger: Argentina or France
Victor T.: Italy or Sweden
Your favourite colour?
Raphaël Léger: Red
Victor T.: Blue
---
Raphaël Léger: People often confuse me with you, and it's often in bars!
Victor T.: Me too! I remember once, at Le Motel, we were next to each other at the bar and people were staring at us! I actually find it better when people come and say something, instead of those people who look at you non-stop and don't dare ask if we are related.
Raphaël Léger: Yes of course. It was a bit like our head quarters for a while, Le Motel, for pop musicians, which is a category that we belong to. But in fact, we know each other through Hadrien Grange, who is our mutual friend.
Victor T.: Oh yeah! He was a waiter over there!
Raphaël Léger: Yes and now he plays in Dorian Pimpernel and Tahiti 80. He played with Fuzati / Klub des Loosers. Do you always play in there?
Victor T.: More nowadays, but I originally played with Hadrien in Klub des Loosers, actually. In fact i've known Hadrien since I was 10! He produced the first Shades album.
Raphaël Léger: Ha okay! There was a moment when he was always in Tahiti 80. He's a musician, sound engineer and a barman! It's practical, and he makes great cocktails!
Victor T.: So tell me, what did you do before?
Raphaël Léger: I did a course at the Music Academy in Rouen, studying piano, drums, musicology. And then after that I joined Tahiti 80, they were looking for musician who could play the drums, other percussion instruments, the keyboards and sing, and I fit this description well. That's how I became a professional musician. That was 12 years ago, now I am 37.
Victor T.: You don't look 37!
Raphaël Léger: That's always nice to hear! How old are you?
Victor T.: 27. I find that so spooky, that our stories are so similar- music college, violin, but I dithered over the piano!
Raphaël Léger: I failed to keep up the violin.
Victor T.: Haha! I started playing bass guitar when I was 14. But music has never been my main thing. I have a degree and a masters in economics and I have worked in the classical music department at Universal. I realized on the job that the classical department was the last uncontaminated, family-run part of music left. After that, I worked at Qobuz, a music streaming company.
Raphaël Léger: And since then, what have you been doing?
Victor T.: I study Philosophy, but I am not a music theorist. For me, music is too direct, and my relationship with music is so close and intimate, and I don't want to intellectualise it.
Raphaël Léger: And we both make pop music, which can be aestheticised, but must always be cool.
Victor T.: Yes, I can't stand it when people start to take themselves too seriously because they have written a song which is a 'amazing'. They talk about it as if it were something intellectually profound. Calm down!
Raphaël Léger: Yes- there are bands who put pop on such a pedestal that it becomes scholarly, which is possible but it's no longer pop at this stage. It's something which is so thought out and goes beyond the remit of popular music- simple, direct, in which people can recognize themselves. When you go off on a specific analysis, you lose contact with the fundamentals of pop music.
Victor T.: And then you are going be judged by scholarly music critics as opposed to just pop critics- which really isn't funny anymore! What I love about pop, it's that it is accessible yet remains mysterious.
Raphaël Léger: Yes it's funny, it's that if you like it, then you will be obsessed, and if you don't, you totally forget and you move on to other things. It's an unstoppable movement, and totally captivating.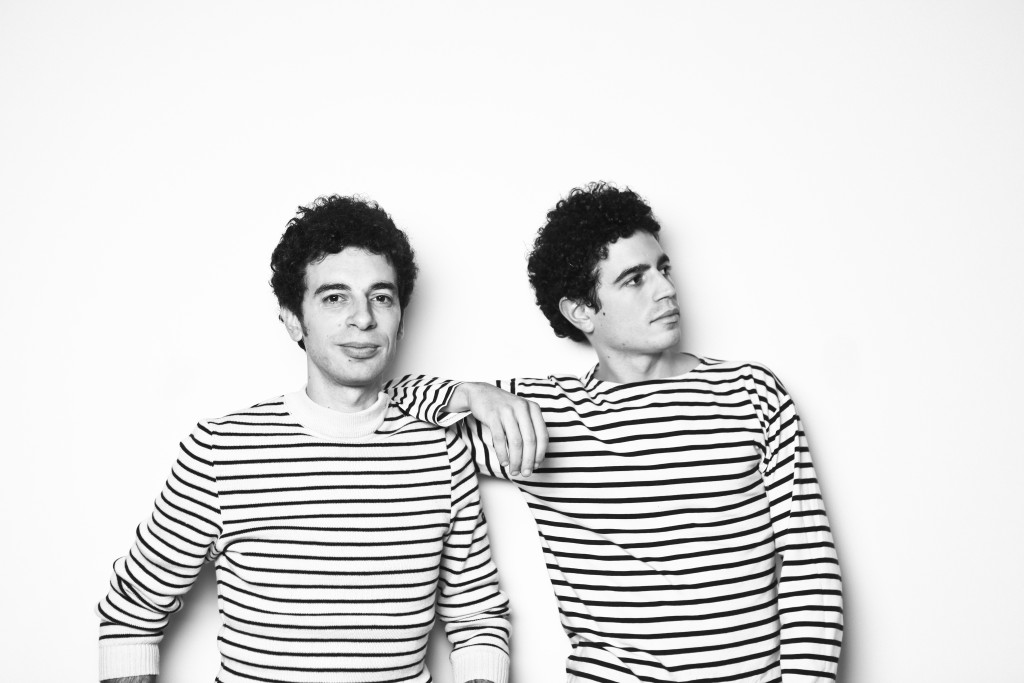 Raphaël Léger: When did you start to play in bands?
Victor T.: I was at school in Paris with Benjamin Kerber. He introduced me to the Strokes when I was 13, it was amazing! When I got to high school, we formed the Shades with his brother, Etienne, and our other friend, Harry Allouche on drums. One year later, Hugo Pomarat joined us, playing the Synthesizer. Our first concert was the the leavers party at school. After that, unlike most Parisian bands, we played at Gibus, at Triptyque. Our first headlining act was in 2006. I had an image in my head of a romantic rock group; going on trips, meeting people, meeting girls… though it didn't happen exactly like that. It was a bit of a fight for who sign us first. We got muddled up with Because Music. They tried to make us hand over bits of music over the phone, we were 15 years old.
Raphaël Léger: That's shady.
Victor T.: We didn't do it. Fortunately we met Bertrand Burgalat, whose label Tricatel we were very keen on.
Raphaël Léger: I'm a huge fan of his stuff, I was lucky enough once to accompany him on a set for the filming of a programme, France Inter, I was so happy! It's Barbara Carlotti, with whom I was playing at the time, who introduced us. And what happened with Bertrand Burgalat?
Victor T.: He signed us onto his label, our first album was really successful, which we released around 2008-2009, after the « baby-rocker » movement. Some people crashed after 6 months. Though after that, our second album didn't go as well as expected and we didn't really care.
Raphaël Léger: Were the songs French?
Victor T.: Yes. I didn't write songs for the Shades, but I wrote in French on my solo project V pour V. I had an EP out in 2014. In my personal work, I defend singing in French because I am convinced that the public attention is different. There is a reflex linked to immediate understanding. Abroad, the public partly love it because it's sung in French.
Raphaël Léger: Of course, they don't want knock-off anglo-saxon music. With Cléa Vincent, we went to America which was cool, because it feels like they really like the fact that we are singing in French.


Victor T.: How about you, is your music only in French?
Raphaël Léger: With Cléa Vincent, my girlfriend's band, yes. But with Tahiti 80, it's in English because it can be internationally successful. Personally, I prefer to sing in French. When I started to write songs, it was in English because I was a bit caught up in Tahiti 80. But i quickly felt like i was limited, because I am not at all bilingual. So, in some ways, the ease of expression in French allows me to express more what I wanted to say and the language sounds good too, it's beautiful. I mess up the sound of words more than their meaning, which may be poetic but it passes after.
Victor T.: What other projects do you have?
Raphaël Léger: For Tahiti 80, I am the drummer, we are working on some arrangements in the studio and recording a new album at the moment, and we are going to go on tour in 2017. Alongside that, I have started to do some live drumming, or drumming on records for loads of my friends. Mehdi Zannad's Fugu, Kumisolo… side projects are always coming and going, but generally, I work with 5 bands at once. Clea Vincent has become my main project, I am really invested in the writing. With Clea, we have kind of become two halves of a whole. I write the words and the music, I arrange it and then produce it, it's really a job of personal investment. We are going to go on tour in 2017 where we will start writing the second album. We also move  house, we've got a good routine together.
Victor T.: In 2017, I'm going to go and do a PHD at Oxford university in England, and also hope to do a bit of music. I'm also looking for a girlfriend, which is a work in progress.
Raphaël Léger: Jesus!
Victor T.: You get one chance, you know! I've never had the chance to make music with a girlfriend. It's important that you both have the same vision and taste in music, it can't just be a case of « yeah she's not bad at singing ».
Raphaël Léger: I agree, what's great about this project, is that you realise that the back and forth works well between us. I am very happy to be the man in Cléa's shadows. Cléa is great as a figurehead and we both play to our respective strengths. I like working in the background, it's comfortable. It keeps me calm. Sometimes, it can be a shock to work with your girlfriend. But that's why there are so many people who would never work with their partner. But for us, it works. Sometimes, working between friends or with your other half it similar, it feels natural, do you see what I mean?
Victor T.: Completely. In the Shades there were two brothers, so all of the explosivity was contained within the two of them…
Raphaël Léger: I see. What are they up to now?
Victor T.: Ben Kerber has carried on with music and his older brother Etienne is going to become a Rabbi. I've been to his shabbats and he always rocks it!
Raphaël Léger: Thats a great band name, Shabbat Rock!
Victor T.: Seriously! And when I go there, I wear a Black Sabbath t-shirt.
Raphaël Léger: Will you invite me along next time? In any case, I'm so happy to have had this little bit of time to get to know you better. Because aside from ordering drinks together at Le Motel, we haven't done much together!
Victor T.: Yes! We have finally had the chance to chat, and it was really interesting!
Raphaël Léger: Very interesting…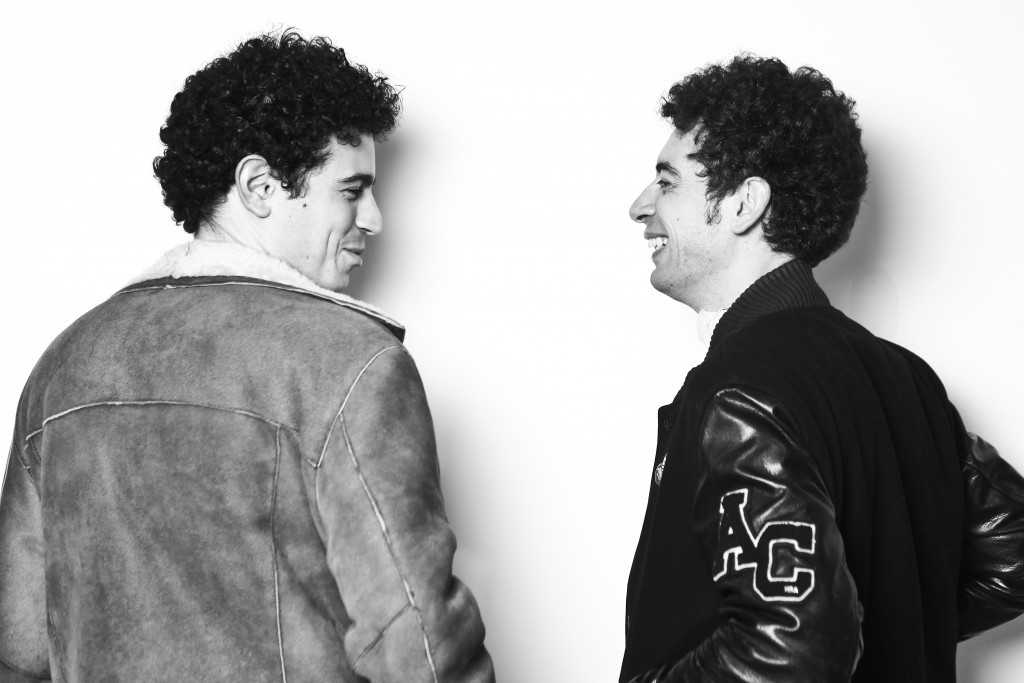 +++ Listen to Raphaël Léger and Victor T.'s playlist for Double Stories.

Interview by Séphora Talmud // Photos: Élodie Daguin.
Translated by Christabel Chubb.