Words by Séphora Talmud. Photos: Elodie Daguin.
Translated by Millie Wilson.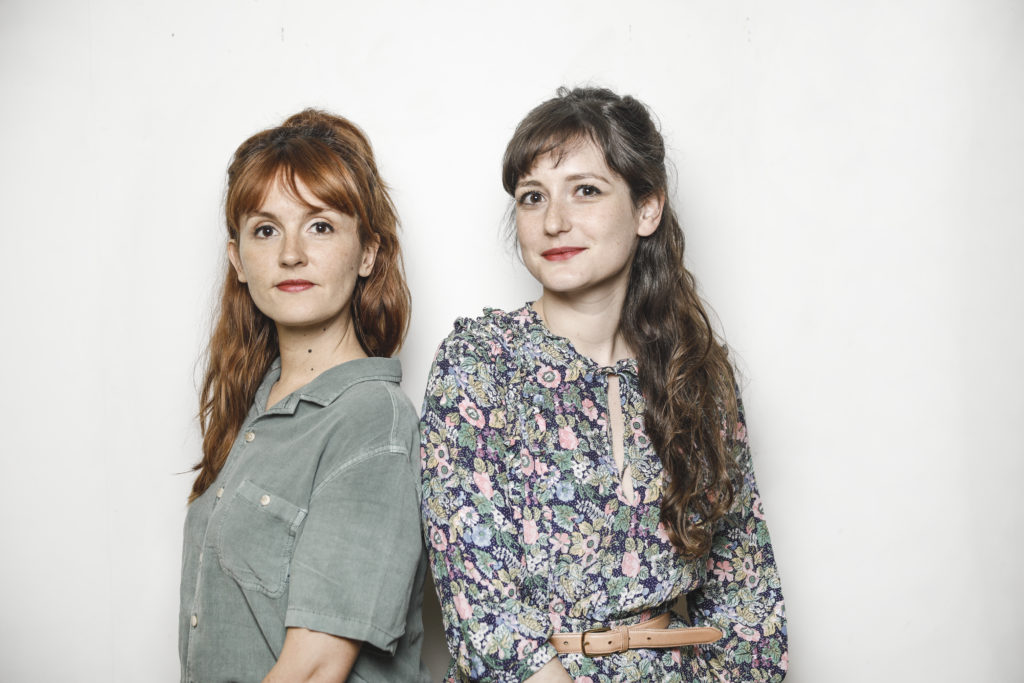 Rosa Bursztein is taking Parisian theatres by storm and Justine Le Pottier is racking up the views on Youtube. Both under the spotlight, the two actresses have mastered the art of comedy. For the first time, they discuss here their cathartic passion, their desires and show us a new side to them.
We have decided to set them up in an off-stage dialogue…
Your favourite colour
Rosa Bursztein: Blue
Justine Le Pottier: Red
A city where you'd like to live
Rosa Bursztein: Paris
Justine Le Pottier: Paris
What do you look for in a man/woman?
Rosa Bursztein: Kindness, open-mindedness… curiosity?
Justine Le Pottier: A sense of humour
Rosa Bursztein: Yeah you're right, a sense of humour is the most important!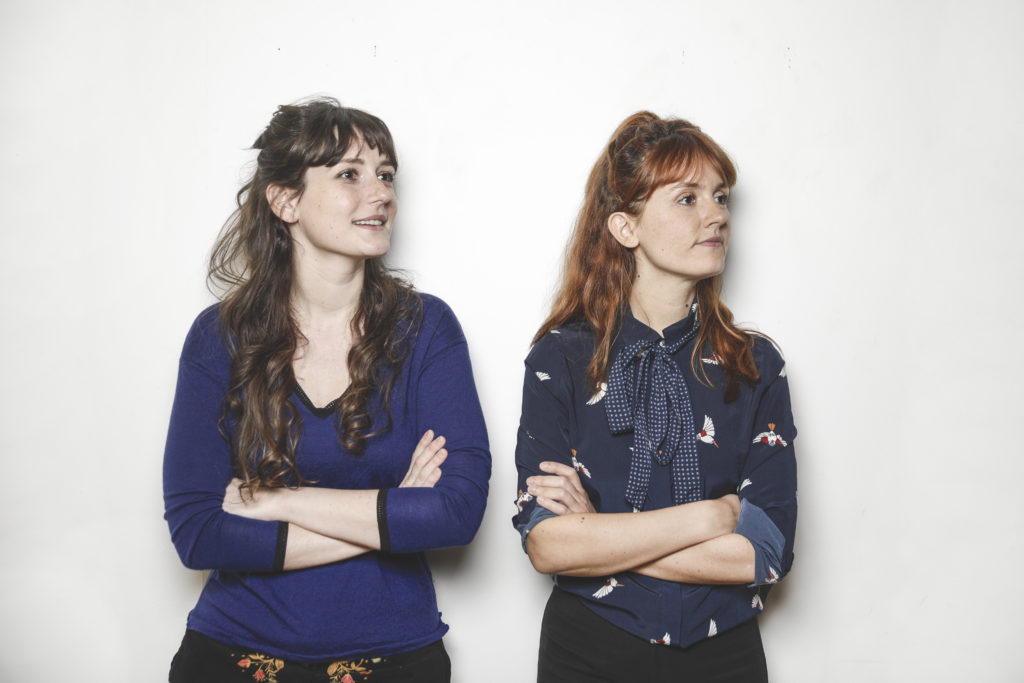 Justine: We look a lot alike!
Rosa: I know! It's weird! When I released the short film « La Science de l'Amour » (Science of Love) with the Youtuber Cyprien, I had lots of people telling me they thought we looked similar, you and me. It would be funny to be in a film together where we play two sisters, it's a bit strange.
Justine: I must admit that could be funny! So what do you do?
Rosa: By day I write, and in the evenings I perform my show at a lovely little theatre called La Petite Loge.
Justine: I bet you feel right at home there. Personally I have done more screen work than theatre. I started off doing theatre like all young actors, but the fact is that I have worked more on screen than on stage.
Rosa: Do you miss it? Would you like to go back to it?
Justine: No, I feel like things have turned out well in my life. I enjoy filming. The preparation, the whole team taking trips away from Paris for long shoots… it becomes like a little chapter in your life and it's difficult because afterwards you really miss it. The day after, everything is over. It's like a precious childhood memory, but for life. I don't really have a company, despite having had the opportunity with groups like Studio Bagel and Golden Moustache to work with several actors and directors. Everything was linked.
Justine: At what point did you decide to go into comedy?
Rosa: As a child, I was really tubby. I was intellectually advanced which meant I spoke like an old woman, as well as being emotionally underdeveloped which meant that I never understood the whole socialising thing with other kids. My parents got me into the theatre and it saved me. I used to tell myself "I want to be an actress and become beautiful. Whatever happens try not to be ugly, Rosa, I beg you!" When you're an actress, getting dressed up, make-up, being the centre of attention is all part of the fun. They always told me that I was too fat, so I got into comedy because I wasn't pretty enough to be in serious things. When I would go to castings it would always be for the role of the funny best friend, since I was a size 10-12 and the main girl would be a 6-8. That's how bad it was. So naturally, you make jokes about it and make your own comedy show… And it took off very quickly, because at theatre school I had been in a series and had started to earn acting fees. I became a state-subsidized freelance actress at quite a young age, but I lost my contract once and I was gutted. I did everything I could to get it back and never lose it again.
Justine: Part-time work with government subsidies, that wonderful system that exists in France, it also really helped me. I've been on it for 9 years. If I were to go back and tell the Justine that was at college in Saint-Malo, "You're going to do this, this and this…", I would have to explain to her what the internet even is (she laughs), but I would love to tell her. I'm talking about myself in the third person, it's amazing. (she laughs) What do you like most about it?
Rosa: Emotions, the connection with people. I feel like I'm in the right place. I try to surround myself with things that I admire. It's so exciting when you feel more awake, more alive. That's also when I find answers to my own questions, when I do my stand-up show. I feel like with big truths, it's through the lens of a show that you get an answer, or some sort of clue.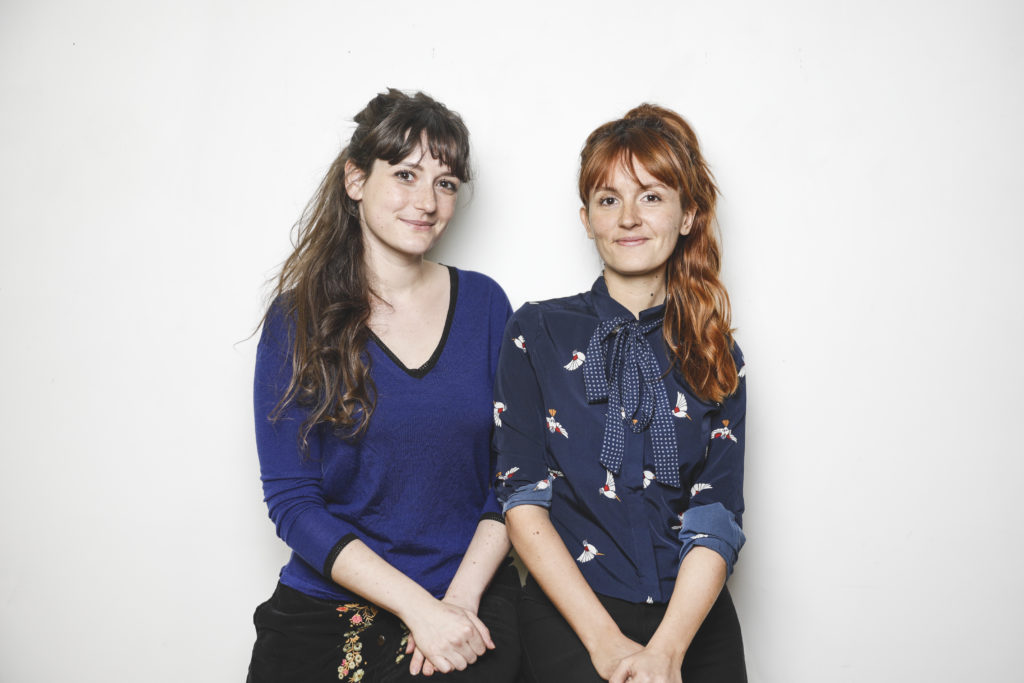 Justine: I also feel good in comedy, and because of that, I have got so much out of the internet. I was lucky enough to come on the scene in the middle of the transition period with a surge of funding and production. When I started, I never could've imagined filming professionally, being able to write, direct and produce my own films, all whilst being funded. Now it's so much easier to find people who tell me "ah I saw you in this, you do that, I'm sure?" I've made a lot of friends through it. And I never would have imagined that the internet would allow me to make a living off my dream job.
Rosa: What's important is knowing who you are, what you want, the people that you want to work with, the people that you would be willing to get to know. When I was 20 I went to so many castings, I wanted everything. And when I wasn't picked/chosen, I would feel worthless. You see, stand-up was a result of these failures. Writing became so important, I needed to express myself. But it came late, especially since I was coming from the world of subsidized theatre.
Justine: Oh yeah, that's very different, they are two completely different worlds.
Rosa: Once a friend came to me and said "You know, I live in République and on my way home in the evening, I see the queue of people watching Nora Hamzawi's show, and I think to myself how is she famous and Rosa isn't?!" People can be so awkward…
Justine: (laughing) That's brilliant! Put that in your show.
Rosa: Yeah, too bad she would notice it. You see it's this thing of like "it's sad for you" where people project their own desires to be famous onto you, it's hard. Also when I get asked how I got the role in Cyprien's film, it feels like starting again from nothing, even though I have been an actress for over 10 years! All the work I have put in, my experience, doesn't count any more, it's like it's not valuable.
Justine: It's definitely not the best part, it's never nice. I think it's what keeps you going though, your ability to bounce back from failure, to not get sucked into overthinking, to be the driving force behind your own projects, you have to use it. If I had stopped every time they told me no…
Rosa: Yeah, the main thing is to stick it out, stay focused on what you love and on what you are aiming for. If I'm really honest with myself, even though I am super happy to be making a living doing what I do, I would really like to be famous, for the power that comes with it. You need to be well known enough for people to think of you and offer you work. We come up with all these methods every day, we can read books on personal development, but let's be honest, money also does really help to be happy. What I do love is when work and talent are recognised. And what's amazing about Youtube is the visibility. My father used to produce his own films. He won lots of prizes, but his films never had much success with the public, which I think is a shame, because when things aren't seen, it's like they don't exist. Does a painting physically exist if it's in a cave and people don't see it?
Justine: It's true.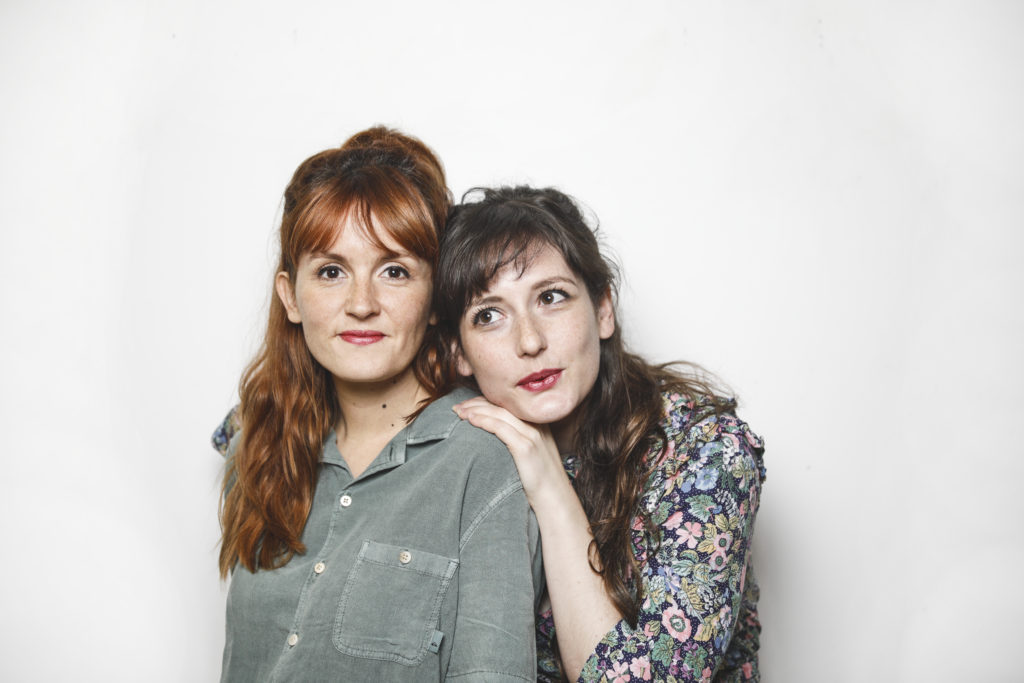 Rosa: Your journey is impressive. The fascinating thing about the internet is that connection to the audience. That's also something that you want to achieve as an artist. What I have found in stand-up is an intimacy with the audience. When I used to perform at the Odéon or even at the Théâtre de l'Atelier, with John Malkovich, it would be in front of a sea of blank faces, that you can't see properly, and that you have no contact with. 
Justine: You worked with John Malkovich? How fancy!
Rosa: Thank you! He had produced « Les Liaisons Dangereuses » (Dangerous Liaisons) and has picked m to play Cécile de Volanges. He's magnificent person to have in your life. You have an admiration for the actor and then you realise that behind that there is a true genius, it's quite mad. What's painful is spending time with such an extremely intelligent, charismatic, wonderful person for months, because once they're gone, your life no longer seems to make sense. That's the danger with meeting these high profile people, because afterwards you have to come back down to real life. The same thing happened to me when I worked with Laurent Stocker at the Théâtre de l'Odéon. He's such a clown, so funny, and brilliant both on stage and in real life. When you work with someone that cool, the days without them are much less fun, not everyone is as radiant. What about you? What has been your most memorable experience?
Justine: One day, my agent called me asking me to go round to Josiane Balasko's. I went, there were dogs everywhere, it was so cool. We had a coffee, and within half an hour it was all good.
Rosa: That's lovely! You had an immediate connection!
Justine: She even told me to come back 15 days later to read with the team, as a way to see if we would get on well. We all had a laugh and she said to me "well you're coming with us!"
Rosa: There is something about lightning bolt moments that brings you luck. It's a good place to start.
Justine: It's almost like an interview for an amazing job where they tell you within minutes "Oh go on then, you're hired". It happens. The show was called « Un grand moment de solitude » and we filmed it in 2 years.
Justine: I don't really think about the 100,000 people, it doesn't bother me anymore. Maybe it's because I grew up on the internet, so I have always seen the number of views and comments under videos. Instagram is really just an extra network. I very rarely get sexist comments anyway. To be fair, I do have a wikiFeet page where guys have compiled videos of my feet… Good for them, leave them to it! (she laughs)
Rosa: That's really exposing though.
Justine: Yes. I know girls who have been victims of cyberbullying. It's a form of violence… It is awful, I've never experienced anything quite like that and touch wood I never will.
Rosa: People know that you're an actress, there's a certain distance because they see you in all different roles.
Justine: Exactly, maybe that's it.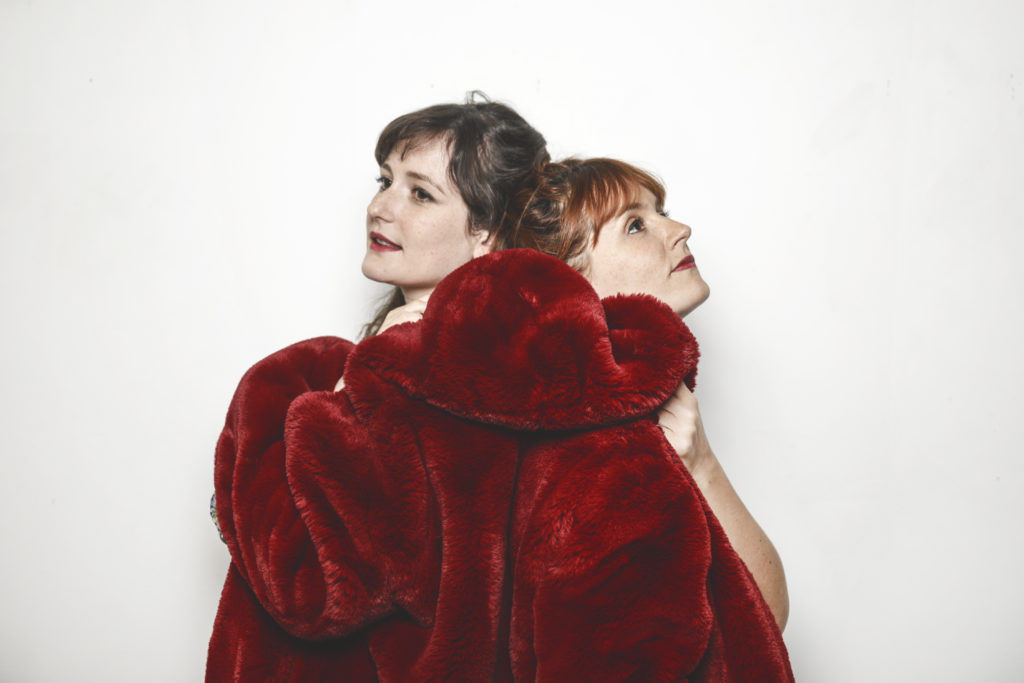 Rosa: On stage I can stuff, but I'm careful on Instagram and Youtube and sometimes I censor myself. The most divisive part of my show is when I say that I don't like dogs! Everybody gets offended.
Justine: Bad human… (she laughs)
Rosa: Actually, I say that if you don't like dogs, you're a monster. However, it's fine to not like Arabs. If someone doesn't like dogs, it generally means there's something wrong with them. I say it all to be controversial. But, my cat is a massive part of my life. He's my husband, I need him. My dad really doesn't like little dogs, he just wants to kick them. And he doesn't like my cat.
Justine: It's quite a small animal, so I suppose it's like a little dog to him.
Rosa: Most likely. My dad was a Lutte Ouvrière (french working-class struggle) militant for 10 years, so everything is political with him. For him, animals are like plants, inferior to humans. He quotes Freud or Lacan "in terms of a libidinous substitute" and feels the need to justify my love for my cat in terms of "a transfer of someone lonely onto an animal". But what I love about my cat is her love of life. (she laughs)
Justine: That's rare for a cat.
Rosa: He's always shocked, surprised, he loves it.
Justine: How old is he?
Rosa: 8 years old, he's an old man. He's fat but he's not bothered at all, he's super happy with who he is. He has his own personality. He never seems inferior to anyone he encounters.
Justine: So is he equal or superior?
Rosa: Slightly superior.
Justine: Haha, there we go! (she laughs)
Rosa: I would like to be more like him. We're similar in the sense that he's really affectionate.
Justine: What's he called?
Rosa: Minou. He was my Grandmother's and she wasn't very imaginative so she called him Minou.
Justine: Minou Bursztein. It sounds like the name of a cabaret dancer. (she laughs)
Rosa: Oh that would be a nightmare, he's completely neurotic. He's so argumentative, he meows just to wind me up. I guess that he's scared of being abandoned. On top of that, he has no memory, he does the same stupid stuff every day. I think that's how I know I love him because I never get tired of his nonsense. Anyway, to get back to humans, two years ago, with the #MeToo movement, I don't know if you thought this but it's not been the same being a comedian.
Justine: It's unbelievable. I noticed too. When you called yourself a comedian you were accepting the fact that you would be a target because it's a profession where you're in the limelight. And if you put yourself in the limelight, you have to accept all the risks that come along with it.
Rosa: It's even worse in the world of theatre. It's been a thing throughout history that actresses in the past were all courtesans. There's a link between actresses and prostitutes, beauty, the idea of the femme fatale. There wasn't the same connotation for male actors, they were seen as purely as artists. But actresses, they were seen as whores.
Justine: Yeah like willing prey. Over time, I stopped going to certain meetings because I knew that the guy would grab me. When #MeToo happened and I saw all these girls saying "this happened to me, they did that to me" and men and the media were passing it off as a "scandal", I thought that this wouldn't be happening anymore, we were victims and I didn't even realise. That was a big eye-opener. Now I feel like men in the public eye stop themselves doing certain things out of fear, not of hurting a woman unfortunately, but rather of public disgrace.
Rosa: Absolutely.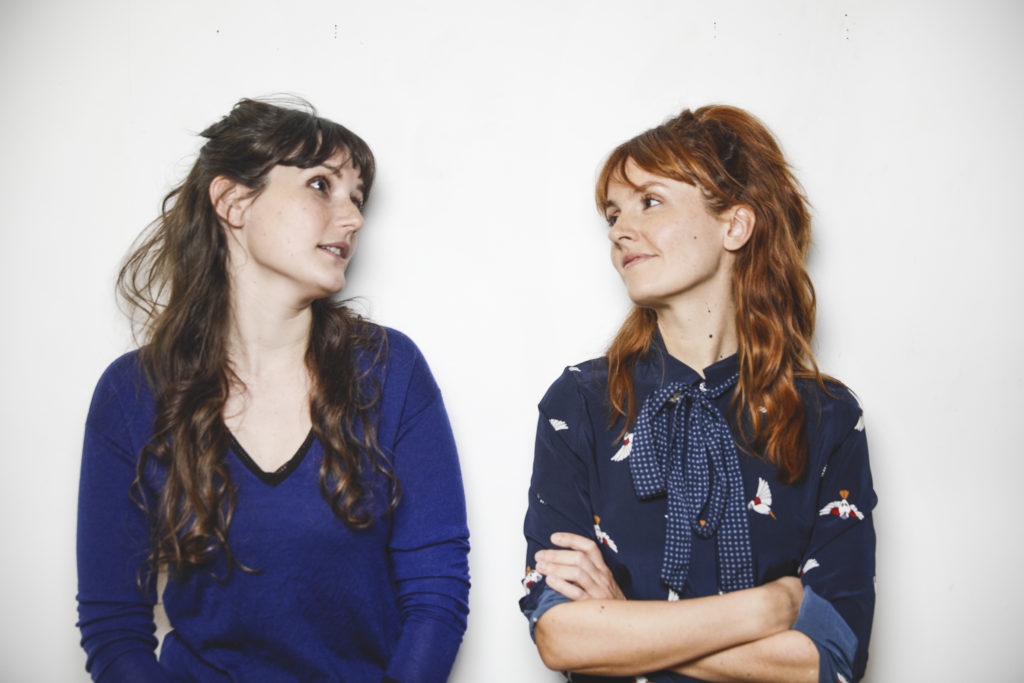 Justine: It changed things massively. I've never heard as many comments on set like "hey, no, but I'm not trying to hit on you, you know that right?". Everyone has become very overcautious. What good is that now! I have already experienced the awful situations, it's crippling. There really are some scumbags who abuse their power. Unfortunately those guys are all still in the same positions. Except now they use this pro-feminist, pro-LGBT+ discourse.
Rosa: You have to be careful of the ones who hide behind these discourses, they're everywhere. The difference lies in their actions, both for men and women, lots of people claim to be feminists. For me, if you're a feminist it means you love your female friends, you love the women actresses that you meet, you value them, you want to work with them. There are small daily acts, I see it in stand-up. Since there are very few women in the industry, when you arrive you are a threat to those who are already there, there is a certain rivalry. I want to diffuse that tension, and create some sort of camaraderie. Who are the comedians that I look up to and want to talk about? If I go to a cool set, I always ask the scheduler if they have seen this or that girl.
Justine: That's cool.
Rosa: What are your next projects then?
Justine: I'm still doing Scènes de ménages (Household Scenes) on channel M6, I've been on that for 3 years now. I'm doing a series for the channel TF1, it's the sequel to a thing I filmed 2 years ago. And I'm also doing another show with Josiane Balasko.
Rosa: Cool! What's it about?
Justine: Tax evasion. She plays an old porn star who married a billionaire. What about you?
Rosa: I'm still at La Petite Loge and I was filming a Haitian feature-length film this summer. I find it amazing to be able to do all different things.
Rosa: Me too, there are still so many things to do. I have so many unrealistic ambitions.
Rosa: Like what?
Justine: I would love to film with Will Smith. That's going to be a bit difficult (she laughs). But you have to keep dreaming, if not you don't get anywhere and you get depressed. When I was a teenager, I had absolutely no idea what I wanted to do with my life. Anything was possible, seeing Will Smith, marrying him and making films together, it seemed possible when I was a teen. He also a Youtube channel, I love him. He's amazing!
Rosa: And he loooves the French! Go for it!
Justine: That would be a job for my agent, I'll give him a call. (she laughs)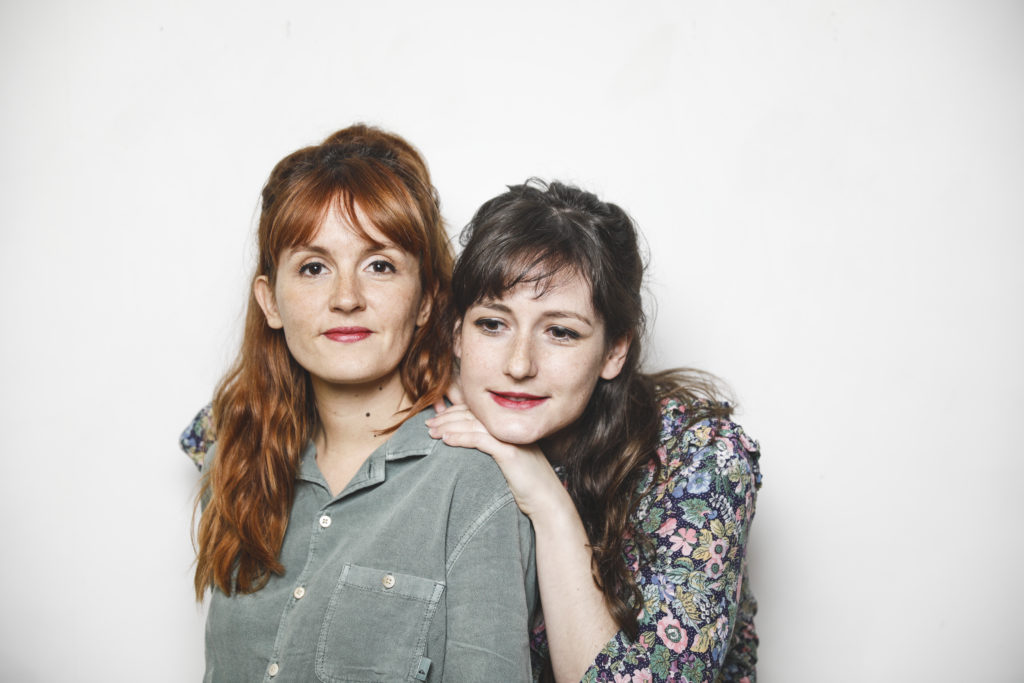 ++ Follow Rosa Bursztein on Instagram, Facebook, Twitter and Youtube.
++ Follow Justine Le Pottier on Instagram, Facebook, Twitter and Youtube.
Séphora Talmud // Photos : Élodie Daguin.
Translated by Millie Wilson.